Hello, friends! Long time, no see. I told myself I was going to make my blog into something I would definitely keep up with, and I have failed miserably at doing so. Life just gets in the way, ya know? One minute you're grading a heaping pile of sophomore essays about The Odyssey, and the next, you've got Suddenly, Seymour stuck in your head while you're fitting kids into costumes for Little Shop of Horrors. And then, kids are giving debate speeches about whether or not hydraulic fracking is beneficial to our world, and time just gets away from ya! (Completely unrelated side note: One of the students giving the debate on fracking literally used the line, "Hydraulic fracking may not be all it's 'fracked' up to be," in his speech, and I about peed myself at my desk at the back of my classroom).
It's a whirlwind, this life. But, I made a promise to myself at the dawn of the new year to make more time for myself and get back to what I love doing most, which is reading. So, as a somewhat "tradition" I've decided to begin, here are my suggestions to add to your summer reading list for the remainder of the summer months:
Wicked Like a Wildfire by Lana Popović (YA)
Synopsis: Twin sisters Iris and Malina were born with the gleam, an ability that allows them to manipulate and experience beauty through magic. Iris sees flowers as fractals and then recreates them into beautiful pieces of glasswork, and Malina can interpret moods as music and play what the mood of a room or person is on her violin. Their mother, who also possesses the gleam, can take beautiful scenery and bake it into her desserts that she sells at her confectionary in their hometown of Cattaro. But then, a mysterious, white-haired woman attacks Iris and Malina's mother and leaves her hovering between life and death, forcing the twin sisters to embark on a journey to discover the secrets and lies that are embedded in their past and in their blood, and they must do so if they want to break the ancient curse that was placed on their family.
Y'all, I ate this book UP. Lana Popović is an absolute word wizard. She painted the seaside town of Cattaro so vividly that I couldn't just see the little town in my head, but I could smell every scent that wafted out of the shops that line the cobblestoned roads. I could taste every single one of Iris and Malina's mother's treats, and even in my mind, they were unlike anything I had ever tasted before in my life. This story is simultaneously beautiful and haunting, and the story of this curse on the twins' family will make your skin crawl. The ending will leave you unsettled, but never fear! I discovered that there will be a sequel titled, Fierce Like a Firestorm. After reading this novel, I am ECSTATIC that another novel is in the works, because I am that excited to read more of Popović's mesmerizing words. I also love that this novel looks at the concept of "magic" in a way that I have never seen done before. Instead of the typical use of wands, spells, or common "witch" abilities, the abilities of the characters in this story are entirely unique, which is why I found the story that much more enchanting.
2. The Disappearances by Emily Bain Murphy (YA)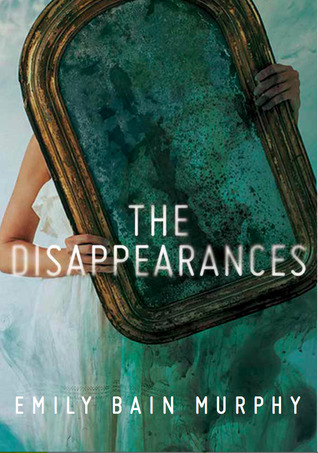 Synopsis: When Aila Quinn's mother, Juliet, a once passionate, secretive, and lively woman, passes away and her father is drafted into WWII, Aila and her brother Miles are swept from their familiar home and sent to live with their mother's childhood friend and her family in her rural hometown of Sterling. In her first couple of days there, Aila notices some strange things: the flowers don't smell like anything, she no longer has dreams, there are no mirrors in the house, and she doesn't even see her reflection in pools of water or windows. She comes to learn that things like scents, reflections, and dreams have mysteriously disappeared in this small town, and she learns that these "Disappearances" happen every seven years. What's worse is that the people of Sterling believe that Juliet Quinn was somehow responsible for them, and Aila and her brother must bear the brunt of the town's judgement as she searches for and figures out the literary clues that her mother left behind for her. What's doubly worse is that it is the year of the next Disappearance, and Aila is desperate to find the truth behind them to clear her mother's name, and hopefully, stop them once and for all.
This was another book I couldn't put down. If you love mystery, Shakespeare, and a little dash of romance (I promise, it's not at all gushy or anything), this book is perfect for you. As a fan of mystery and Shakespeare, I devoured this book in about five days, DURING the school year, and that's saying a LOT. I just couldn't put it down. It's told in a bit of a disjointed timeline, switching between Aila's story and letters written from a character you don't know the identity of until close to the end, so you do have to pay careful attention to how the two stories intertwine with one another; but, when it clicks, you will be hopping around in your chair, or bed, or wherever you read, because you will be dying to know what happens next.
3. The Hate U Give by Angie Thomas (YA)
Synopsis: Starr Carter has always lived a double life: her life in the projects where her family lives, and her life at her dominantly white prep school that her mother sends Starr and her brother to in the hopes that it will keep them safe from the gang violence and lifestyles that pervade their streets. However, Starr witnesses the shooting death of her childhood best friend, Khalil, at the hands of a police officer, and Starr's two worlds suddenly come crashing to the ground. Khalil was unarmed. Suddenly, the shooting is making national headlines, and they are dragging Khalil's name through the dirt, calling him a thug and suspected gang-banger and drug dealer. Protests are breaking out not only in her neighborhood, but all over. Everyone wants to know what truly happened that night, and the only person who can answer that question is Starr. What Starr does–or doesn't–say could turn her community onto its head, and possibly endanger her own life.
This is honestly one of THE best young adult novels I have ever read. I adore stories that have characters who just feel real, and that's Starr. You read her dialogue, you listen to her thoughts, and it's like she's standing right in front of you and she's one of your best friends. Though it's a sad truth to admit, this story is so relevant to our society right now, and it paints a true picture of the struggle the victims and witnesses of crimes like this go through. The level of fear, frustration, and sheer determination in Starr's heart will fill yours up with the same emotions, and you will not be able to stop reading–just as Starr feels like she cannot stop fighting–until you know if justice is served. I will give a profanity warning, though. Some people may call the use of it in YA literature unnecessary, but I think it makes the story even more realistic to what comes out of sixteen-year-old mouths in the hallways at school. Trust me, I hear it eeeeevery day. If it's shocking to you…well, you may be in a bit of denial. It's also exciting to note that The Hate U Give will be hitting theaters in October 2018, with Amandla Stenberg (star of Everything, Everything and Rue of The Hunger Games) as our girl, Starr Carter. It'll also feature Anthony Mackie, Common, and K.J. Apa.
4. Ready Player One by Ernest Cline (YA and Adult)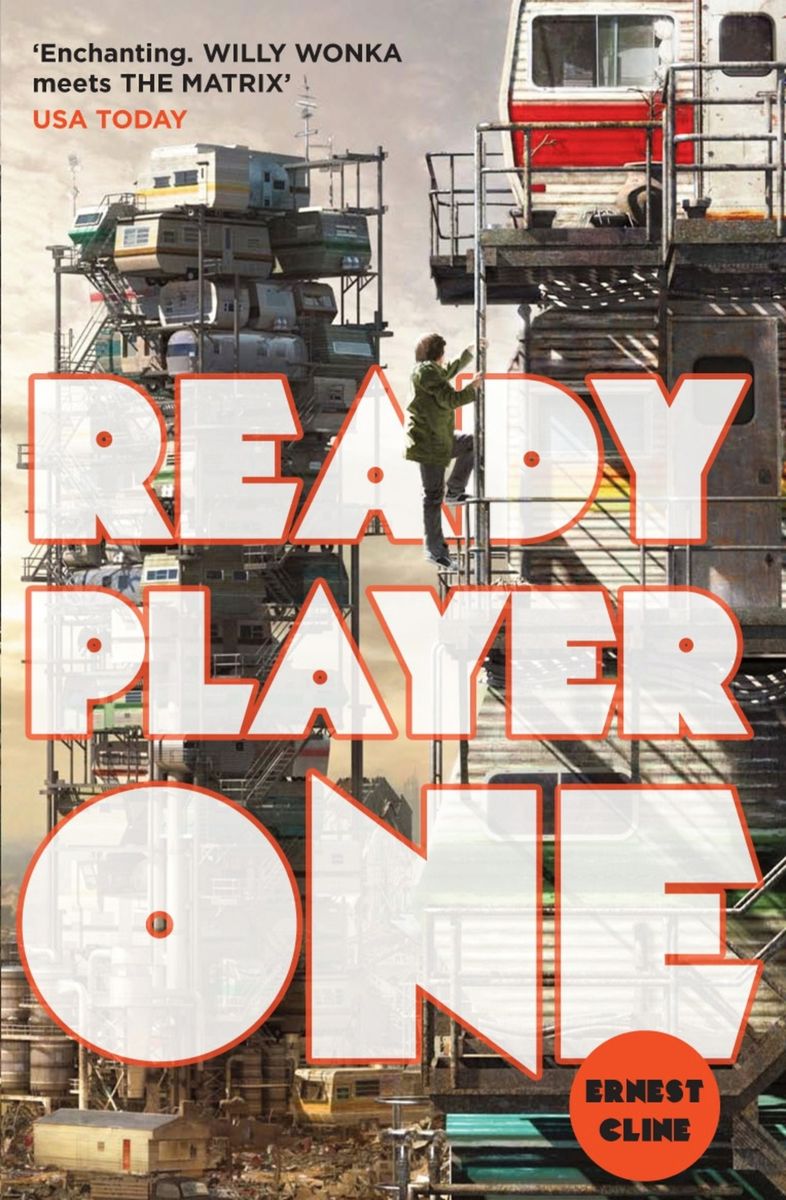 Synopsis: Set in the future in the year 2045, reality has become a place most people don't want to face. Instead, they spend their time plugged into the virtual reality utopia called the OASIS. When the 80s-pop-culture-obsessed creator of the OASIS dies, he leaves its users with an "easter egg" hunt. Whoever finds the easter egg he has hidden within the OASIS will inherit his entire fortune, and be the new owner of the OASIS itself. Wade Watts devotes his life to living in the OASIS, learning anything and everything he can about 1980s pop culture in order to crack open the mystery of the egg hunt, but goes for years finding nothing. However, when Wade stumbles upon the first clue and his username is out there for everyone to see, he becomes a target for fellow "gunters" who are willing to kill him for their own chance at the grand prize. The race to the easter egg begins, and if Wade wants to make it out alive, he has to make it to the finish line, and also confront the reality that he so desperately tries to escape each day.
Ernest Cline is yet another word wizard who paints such a vivid world inside of the OASIS that you, like the characters inside the book, may never want to leave. I will say, this story isn't for everyone, but if you are a gamer, love the 80s (like I do), or both, you need to pick up this story immediately. Wade is the absolute underdog. He's overweight, awkward, and unfortunately has no family other than this inattentive aunt and her greedy boyfriend, and you root for him the entire way to get what he's after. Cline's humor shines brightly throughout the entire story, and I found myself laughing out loud at many of Wade's one-liner insults. The entire easter egg hunt keeps you on the edge of your seat and it makes it difficult to put this story down, even to go to the bathroom or eat your dinner. Not to mention, the copious amount of 80s pop culture references that are woven into this story are absolutely BRILLIANT. I was actually giddy reading it at some points because I was thinking to myself, HA! I get that reference! Bottom line is, you need to read this book. It is excellent. (This story has already been turned into a movie, and even though I am usually a book-to-movie purist, I thoroughly enjoyed the movie, even with the various changes made to the plot.)
5. Holding Up the Universe by Jennifer Niven (YA)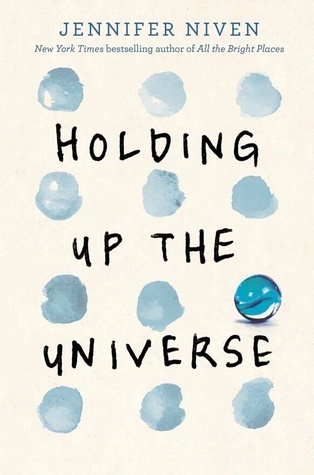 Synopsis: Libby Strout, once deemed "America's Fattest Teen," is going back to high school after having to be physically cut out of her house. She's never been looked at for anything other than her weight, and she's determined to make her mark at MVB High for something other than what she looks like. Jack Masselin is determined, too, but not to make his mark. He's determined to blend in and uphold his reputation as the guy with swagger, because Jack has a secret: he can't recognize faces. The entire world, including his own family, are strangers to him. He can't let people know about his problem, so he coasts through life on his charm, his humor, and by not getting too close to anyone. And then he meets Libby. After getting tangled up together in a cruel game at school, Libby and Jack are placed in group counseling together. At first, they're pissed. But the more time they spend together, the more surprised they feel because they realize that together, they are not alone.
Lemme tell ya, Jennifer Niven is one of the best character creators out there. One of her other books, All the Bright Places, was on my list last summer, and when I discovered that she had another, I knew I had to read it. Libby Strout is probably one of my favorite characters that I have ever come across. Her wit is absolutely hysterical, and her courage and feistiness will have you falling in love with her with each and every word you read. I'm typically not one for "feel-good" stories, but man, this one was the exception to that rule. Libby's and Jack's stories are unique, and while both of their situations ARE rare in the common population, their friendship is relatable to everyone. It's hard to say much more without giving the story away, so I'll let you read it for yourself.
6. The Handmaid's Tale by Margaret Atwood (Adult)
Synopsis: Offred is a handmaid in the Republic of Gilead. She is allowed to leave the home of the Commander and his wife to go shopping for groceries, where everything from street signs to food is labeled with pictures instead of words because women are no longer allowed to read. Once a month, she must lie on her back and pray that the Commander makes her pregnant, because in an age of infertility and declining births, Offred's and other Handmaids' ovaries are the only things that make them worth anything in their society's eyes. Offred remembers the years before, when she would make love to her husband Luke; when she would play with their daughter; when she had a job and money of her own; when she was able to read as many books as she pleased. But now, all of that is gone…now, she doesn't even have her own name. She is owned. And she is not sure she can take it much longer…
I know, I know, I'm late to the game with this already popular Atwood novel. For those who are unfamiliar with her, Margaret Atwood is the QUEEN of dystopian literature. I bought this book a couple of years ago with every intention of reading it, but alas, I got distracted buying other books, and it kept getting pushed further and further to the bottom of my "to-be-read" pile. I am SO glad I finally picked it up. While this book is supposed to be satire regarding politics/the patriarchy/social trends/etc., it is actually quite terrifying because of how real the possibilities outlined in this story are. Offred's tale is gut-wrenching. Her inner monologue is both hilarious and depressing, and as a woman, I put myself in Offred's shoes and I just cannot even fathom the thought of something like this actually happening. Atwood's writing style is definitely unique, and for those unfamiliar with her work, it may be a bit tough to get into at first. But, I promise you, the story itself is worth it. And once you're done reading, you can do what I did and finally watch the Hulu series and see all of it come to life, and you'll wish you had stuck to just reading it instead of watching it, because yes, it is THAT messed up.
7. The Diviners series by Libba Bray (YA and Adult)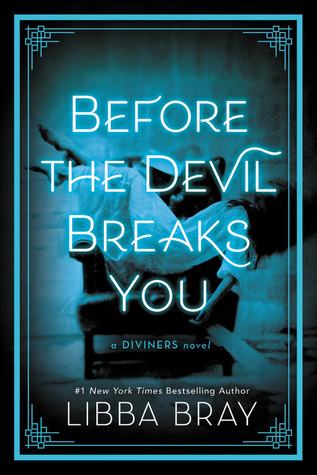 Synopsis: When Evie O'Neill's gift for gleaning a person's secrets from one of their personal belongings gets her into trouble in her hometown in Ohio, her parents decide to send her to her boring, bachelor uncle Will in New York, who runs a museum dedicated to the supernatural and the occult. Unbeknownst to her parents, Evie is beyond ecstatic to be thrust right into the middle of a city rich with speakeasies, flappers, and jazz in 1926. After she arrives in Manhattan, though, the police find a girl murdered and branded with a cryptic message, and Will is called to the scene to help. Evie realizes that her gift could help track down a serial killer. As Evie dives into a dance with a murderer, other stories are unfolding in the city that never sleeps. A young man named Memphis is living between two worlds. A chorus girl named Theta is running from her past. A student named Jericho hides a shocking secret. And unknown to all, something dark and sinister has woken up that threatens them all. 
DO. NOT. SLEEP. ON. THIS. SERIES. I HAVE SAVED THIS ONE FOR LAST BECAUSE IT IS THE BEST. Guys, I have to give credit to Haley Blain for introducing me to this. THANK YOU, HALEY. I am SO glad that she suggested it to me, because it is one of the best series I have read since Harry Potter. Libba Bray is PHENOMENAL. Every single character in this story has depth and a distinct personality. Even just by reading his/her dialogue, you know exactly who it is that's talking, and that is NOT an easy thing to accomplish as a writer. I can hear each characters' voices so clearly in my head, including their accents, varying from Brooklyn, the south, the midwest, and the typical old-timey movie star voice (you all know exactly what voice I'm talking about). This is the first time I have actually fallen in love with a fictional character (looking for my real-life Sam Lloyd from this point forward), but even more importantly than that, Libba Bray has created a world of the 20s that is just as glitzy and glamorous as our history books have taught us, and she has managed to intertwine our country's true history with a supernatural and terrifying story all her own. This story has given me goosebumps, it has made me stare at the pages with my chin hanging down to my chest, it has given me nightmares (not kidding), and it ALWAYS keeps me guessing. The supernatural aspects are downright bone-chilling, and I have to say, if this series were ever turned into a movie, it would be HORRIFYING. Just thinking about seeing the things in this story on the big screen has me creeped out beyond belief (but seriously, will someone pick this up for a movie deal? Tim Burton…I'm looking at you, my man). I haven't been able to put these books down. The second book in the series is just as good as the first, and I just finished the third and can say it is also equally as amazing. Like I said, it has been a long time since I have read a series this genuinely captivating. Each character is touched on every few chapters so that you can keep up with their stories and see how they all intermingle with one another. I mean, it is just INCREDIBLE. The way that Bray incorporates history into her story is one of my favorite parts, though. It's not even commonly known history that she dives into, but the history of things in Manhattan and New York itself–things that most people don't even know anything about. She draws on real historical figures, scientists, psychologists, etc. She draws on real laws, issues, and beliefs of the people of that time period. And she makes you consider what it truly means to be American, and what our country truly stands for. I know you just read that and thought wait, what the hell? Where did that come from and what does it have to do with the supernatural and the occult? But once you read this series, I promise you will understand. I'm serious, everyone. Read. This. SERIES!!! The fourth book of the series is still in the works, and I cannot wait for it to be released so that I can get my hands on it!
So, there you have it! I hope my overly-excited rambling didn't turn you off of these books. If you do happen to pick up one or more of them and read it/them this summer, I'd love to hear how you liked them! Or didn't like them…although I really hope that you like them.
Happy reading!